Garraf Natural Park
The Park is situated to the south-west of Barcelona, approximately a half hour's drive from the city. Its limits are the lower valley of the river Llobregat, the Mediterranean sea and the Penedés Depression. The Park has two different geological regions: limestone and conglomerates. The limestone scenery is spectacular, with dolines, potholes, gorges, limestone pavements and a river resurgence at the coast.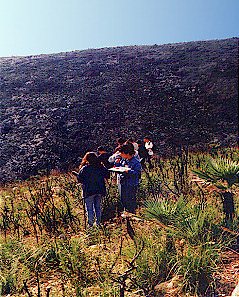 Investigating the effects of fire on the ecosystem
Most of the Garraf offers a characteristic southern Mediterranean landscape. The vegetation is of African origin. Garraf is the most northerly area of Europe where this type of vegetation grows. It can be categorized as garrigue (typical Mediterranean xerophytic vegetation found on limestone) or brolla, (a variety of shrub land found on south-facing slopes).
Rural depopulation has left many farmhouses and villages in the region deserted. The area has seen a recent growth in second homes and tourism is growing in importance in the village of La Plana Novella.
The Garraf is a very important area for the manufacture of cement. Several large quarries operate cement plants, exporting to other Mediterranean countries through the ports of Garraf and Barcelona. Exhausted pits are used as land-fill sites, which have caused contamination of the ground water.
The area was declared a Natural Park in 1986, forming part of a green belt that surrounds the strongest urbanized sector in Spain.



Students studying the impact of fire on the vegetation




The effects of fire in Garraf, July 2001

Limestone scenery: processes and landforms.

The adaptation of species of garrigue vegetation.

Plant adaptation within limestone pavement microclimates.

A study of the economic use of garrigue vegetation species.

The effects of fire upon the natural vegetation and soils: vegetation succession and the adaptation of species to fire damage.

The effects of altitude and aspect upon the natural vegetation.

The effects of geology upon the natural vegetation.

Park management strategies and the effectiveness of visitor management.

The environmental and economic impact of quarrying in the Park.

The environmental impact of a land-fill site.

Human impact.

Slope variations in relation to changes in aspect on the same lithology.