Impact of rising sea levels on the Llobregat Delta
If seas rise as little as one metre this century, as forecast in some scientific models, this will have a dramatic impact upon the Llobregat Delta as shown in the maps below.
1. Increased Salinisation
The aquifer of the Llobregat Delta is one of the most important fresh water resources of the Barcelona area, forming an underground source with a capacity of 100 million cubic metres of water. Numerous industries, agriculture and the population of the delta town of Prat de Llobregat use its water, extracting it through wells. Over-exploitation has led to salinisation of the aquifer, with 30% now being unusable. A rise in sea level will lead to very significant further contamination as salt water will rise through the subsoil by the hydrostatic pressure exerted by sea water.
2. Erosion of the Delta
There is always a balance between erosion and deposition in the delta, which affects its shape. This balance has shifted in favour of marine erosion, which is now threatening the ecologically-important sand dunes and lagoons located close to the sea.
3. Sinking of the Delta
Parts of the Delta have already sunk to below sea level. The Delta loses five millimeters in height each year, (three millimeters due to compaction and two by the rise of the level of the sea due to global warming). The consequence of a sea level rise of one metre is the immediate entrance of salt water through the subsoil by the hydrostatic pressure exerted by sea water.
4. Marine intrusion of sea water in the estuary
The marine intrusion of water in the estuary of the Llobregat will have an impact on the new water reclamation scheme and further threaten ground water supplies used for agriculture, domestic consumption and industry.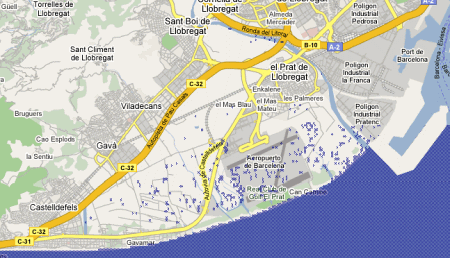 Map of the Llobregat Delta - areas at or below sea level are shaded dark blue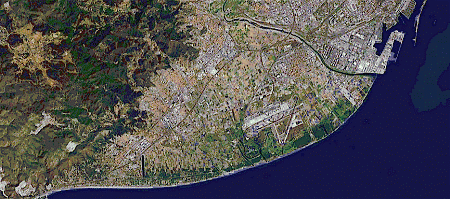 Llobregat Delta at current sea levels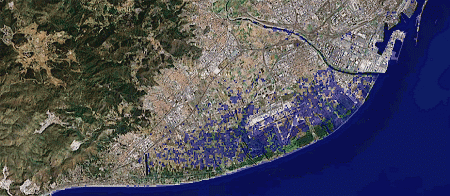 Llobregat Delta with a one metre rise in sea level
See: Impact of rising sea levels on the Ebro Delta
Source: http://flood.firetree.net