Beach Profile Creator, Cross-Sectional Area and Width Calculator - Using Slope Angles
A beach profile is a cross section diagram showing changes in elevation versus distance along a transect drawn at right angles to the shoreline, from the low water line to the landward limit of the beach.[1] The width of the profile is the horizontal dimension of the beach. The size and shape of the beach profile is a good indicator to the risk of coastal erosion, the effectiveness of coastal management, and the value of the beach as a recreational resource.
The profile consists of a series of geometric shapes: triangles, rectangles and trapeziums or trapezoids. These shapes allow the calculation of beach elevation, horizontal distance and cross sectional area from beach slope angle and distance data. Beach angle and distance data should be recorded at each change or break in slope along the transect.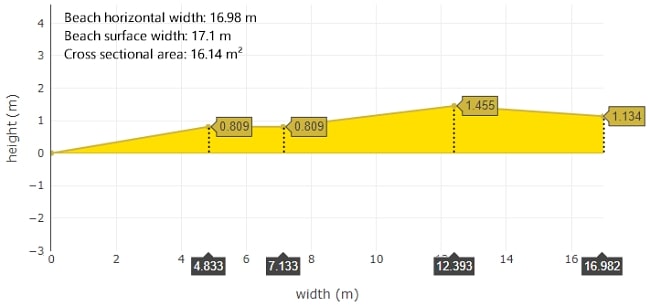 Beach profile geometric shapes used to calculate the elevation, horizontal distance and cross sectional area
The beach profile creator below quickly calculates the beach elevations, beach horizontal dimensions and the cross sectional area from just two sets of data: cumulative beach surface distance and slope angle. An image of the profile can be saved along with the data calculations used to construct and analyse it.
The 'More' button opens an option to calculate beach volume. The 'Customise' button opens options to change the beach profile title and set the X axis range.
The 'Show Data' button opens a copy of the data and shows the calculations used to construct and analyse the beach profile.
Enter your beach transect cumulative surface distance and slope angle data in the calculator below. Select the type of profile required (drawn with rounded or straight lines) and click the 'Calculate' button to calculate your data. The 'Open Profile' button will open your beach profile in a new window. A menu appears above the profile image offering several options, including downloading the image. Hover over the sampling locations on the image to display the data.
Beach Profile Creator using Slope Angles
References
---
1
Kraus, N.C. (2018). Beach Profile. In: Finkl, C., Makowski, C. (eds) Encyclopedia of Coastal Science . Encyclopedia of Earth Sciences Series. Springer, Cham. https://doi.org/10.1007/978-3-319-48657-4_37-3
---
Beach Profile and Cross Sectional Area Calculator using Absolute Height
Beach Profile and Cross Sectional Area Calculator using Height Change