Map Reading Test Help
Where do I start from?
Check the route-plotting example below.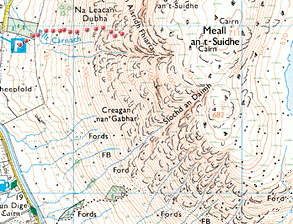 Test map extract showing route-plotting example
When I click, why is there is no mouse trail?
Users of Firefox and Netscape browsers must double-click to set a mouse trail.
Are there any clues to help get high marks?
Cross the rivers at footbridges (FB) and areas of shallow water (Fords). Try and follow the contours as much as possible, since this avoids steep gradients. Contour lines stay 'on the level'. The slopes are steepest where the contours are close together. Zigzag up the steepest gradients. Keep clear of rock outcrops, cliffs and scree (loose rocks). Check the rock features map symbols below:

Ordnance Survey Map Symbols: Rock Features
What is a near miss?
A near miss is an accident or near-accident that does not result in injury. It is also known as a 'close call'.
How can I find out the correct route to the summit?
You will need to get to the summit first. Clicking the button will then open a window showing a diagnostic 3D image of the safest Ben Nevis route.
How can I find out what the actual landscape at Ben Nevis looks like?
Check the images and source link below: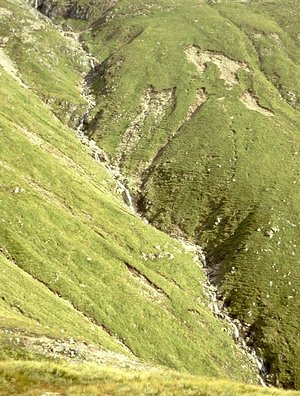 Ben Nevis river valley (Red Burn)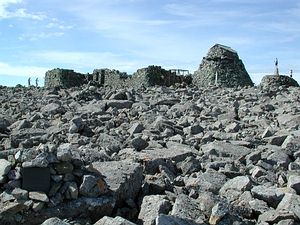 Ben Nevis summit

Map Reading Test