Geology Fieldwork in Sitges, Barcelona: Faulting and Folding
Faulting and folding in two accessible and adjacent sections of Cretaceous limestone cliffs at Sitges provide ideal sites for geology teaching in the field and subsequent field assessment.


Two adjacent locations showing faulting and folding at Sitges, Barcelona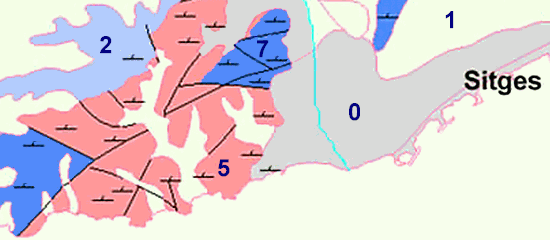 Sitges Geology Map



Key

Clays, quaternary sands and gravels
Gravels, sands, silt and quaternary clays
Limestones, sandstones, marls. Marine estuary. Miocene
Grey and black limestones and calcarenites creams. Neritic and brackish. Cretaceous
Black dolomites, Jurassic
Geology student activities (based on OCR AS GCE Geology Fieldwork Task Example)
Faulting and folding at Sitges, Barcelona
Draw annotated sketches (to scale) of the area to show the main features.

Measure and sketch the fault lines, bedding and mineral veining patterns.

Measure the thickness of a number of different beds.

Identify and describe each of the different rock types using measurements, detailed descriptions and sketches.

Measure the angle of the fault.

Estimate the direction and amount of throw on the fault.

Decide what type of fault you have drawn.

Describe any features which are associated with the faulting, making detailed sketches if appropriate.

Find a mineral vein and describe how it relates to the fault.

Identify a vein mineral.

Measure the direction of joints on both the limb and crest of the fold using a method that will give a data set of accurate results to plot on a rose diagram.

Describe how you could improve your methods for collecting joint data and how they could be changed with different equipment. Comment on the differences between your data and group data. Explain the relationship of the joints to the fold.

Decide where a fold could be and estimate the dip of the limbs where possible. Make a sketch of the fold structure shown in the cliff. Measure and mark your dips on the sketch.

Find and describe mineral veins and slickensides and state how they relate to the joints.

Describe any field hazards and the safety procedures followed.

Comment on geoconservation.

The geology of the Sant Pere de Ribes basin

The saldoneres of Sant Pere de Ribes: a tool for the interpretation of the geological history