Parc Tecnològic del Vallès, Barcelona
The Parc Tecnològic del Vallès (Science Park of El Vallès) is a new generation of business park especially established to cater for, and 'incubate' businesses and institutions that work in the field of the new technologies. The area of El Vallès has seen huge growth in the knowledge-based science and technology industries in recent years and this has coincided with the building of large communication infrastructures and the rapid urban development of Cerdanyola and Sant Cugat.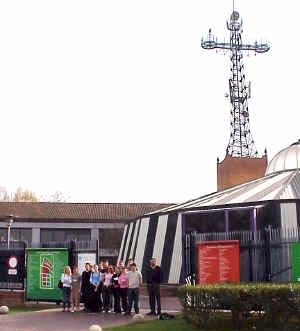 Student study group with Xavier Garriga Fortuño, the Park coordinator.
Separated from Barcelona by the Collserola Natural Park, the Parc Tecnològic del Vallès is part of an urban agglomeration of more than 3 million inhabitants, which houses universities and technological services. The quality of the environment is exceptional and the zone has excellent railway, international airport and port facilities as well as a tunnel connection to Barcelona and motorway links with the whole of Spain and the rest of Europe.
The Parc Tecnològic del Vallès project was promoted initially by the Departament D'Industria, Comerç i Turisme (Department of Industry, Trade and Tourism) of the Generalitat de Catalunya and by El Consorci (Consortium of the Zona Franca of Barcelona). The agreement that created it envisioned the incorporation of Catalan universities, research centres, financial organisations and local bodies as future shareholders of the corporation.
Objectives of the Park
In 1987, CIDEM (Centre for Business Innovation and Development) and EL Consorci constituted the corporation Parc Tecnològic del Vallès, S.A. with the following objectives:

To generate synergies between businesses and institutions thanks to the complementary nature of their activities, physical proximity and personal knowledge.
To provide the businesses that set up in the Park with a series of quality services.
To assist in the dissemination of new ideas and knowledge.
To become a launch platform for new technological business projects.

The organisations that participate in the corporation at present are the following
Industrial businesses who wish to set up in the Park have to have their own department of Research and Development, and be prepared to carry out some of their research and development activities in the Park or have the intention of transferring them there within a short period of time.
The businesses include:
Technologies associated with agriculture, biology, bio-technology, health...
Information technologies and telecommunications
Environmental technologies
Energy technology
Basic industrial technologies: electronics, metrology and control, optical instruments, plasma, laser...
Sectorial industrial technologies: chemical, engineering, (civil, industrial, mechanical...), transport
Technologies associated with the production and processing of new materials as well as technical and training centres.