Barcelona's beaches: the problem worsens...
In the last few months Barcelona has been subjected to the worst weather conditions since 1945. Nine easterly storms have removed tens of thousands of tons of sand from the beaches, a problem discussed elsewhere in this site section. The photographs below show the changing conditions on one beach, l'Estanyol in Sitges during this period.
The current data for this beach is as follows:
Sitges Beaches: Width data 1999-2002
Beach number
Name
Orientation

Beach width July 1999 metres

Beach width 24 Nov 2001 metres

Beach width 1 June 2002 metres
Net loss metres
% loss
6
l'Estanyol
SE
12
8
0
-12
100
measurements taken in the centre of the beach; tidal range: 18 cms
There has been total sand loss in the centre of the beach and demolished steps, exposed cables and rubble suggest it may be safer to shut the beach altogether until repairs can be made.
This is a very real crisis. Businesses in Sitges are already being hit hard. Rainer Lepka of Phillip's Bar at Sant Sebastià beach reports trade down fifty per cent. A whole section of beach opposite the bar has been lost and regular customers are staying away. The government is in danger of being caught in a vicious circle: falling tax revenues leading to even less money being available for future beach replenishment leading to increasing loss of tourist revenue.
Equally worrying, the sand is not returning as expected with calmer conditions and constructive wave activity.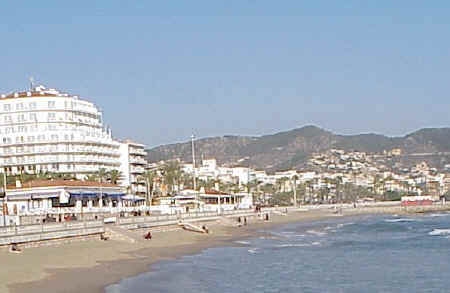 l'Estanyol beach Sitges, November 2001, after the first of the storms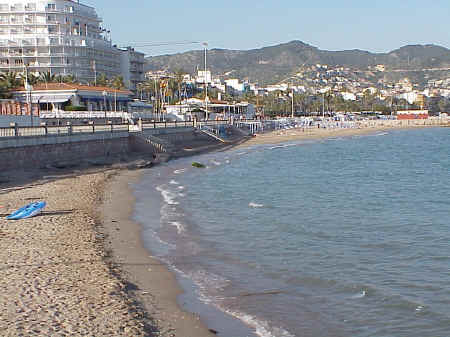 l'Estanyol beach Sitges, June 2002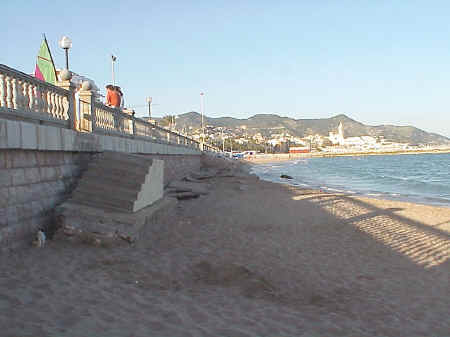 Destruction at l'Estanyol beach Sitges, June 2002