DAY 1. Nationalism, Nation State, Economy and Politics
This day includes site visits in Barcelona and explores:
the origins of Catalan national identity, language and culture;
the development of modern Catalanism;
industrialisation and Catalanism;
Catalanism in the 21st Century;
Spanish and Catalan political, civil and judicial institutions;
politics of Catalonia;
the difference between cultural and political nationalism;
tensions between Catalonia and Spain.
Key concepts include:
Nationalism;
Nation, nation-state, racialism, patriotism and national self-determination.

SITE VISITS: Spanish and Catalan institutions, Barcelona Cathedral, its chapels dedicated to patron saints of artisans' guilds; the Church of Pi, its sheltering of clandestine trade unions and a focus of the recent immigrants' hunger strike; Caixa Catalunya, police headquarters, Palau de la Música, Plaça Sant Jaume Generalitat and Ajuntament (town hall).
OPTIONAL VISIT: Museum of Catalan History.
DAY 2. Anarchism in Barcelona
Barcelona represents the one occasion in history when the anarchist movement has controlled a great city. Its experience during the Spanish Civil War is used as a vehicle to explore the concepts of anarchism, nationalism, socialism and fascism. The Spanish Civil War, a war fought for ideology, presents the world's best example of anarchism as a large scale political force.
This day includes site visits in Barcelona and explores:
anarchist ideas and history;
the impact of the Spanish Civil War within the city of Barcelona;
George Orwell's Spanish Civil War experience in Barcelona.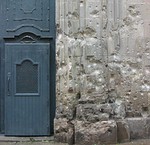 Felip Neri, Barcelona
SITE VISITS: George Orwell's sniper post on Las Ramblas, shrapnel façade of Felip Neri, Liceu Opera House (anarchist bomb), Central Post Office, CCOO and UGT union headquarters, Foment de Treball patronal and the fortress of Montjuïc.
OPTIONAL VISITS: air raid shelter on Avinguda Paral.lel. Palau Güell townhouse (before the industrial barons took refuge from their employees up in the hills).
DAY 3. Battle of the Ebro and the Spanish Civil War museum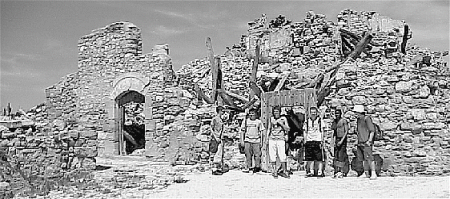 Corbera d'Ebre (Long Road Sixth Form College)
The battle of the Ebro was one of the most decisive engagements of the Spanish Civil War. This day includes a visit to Corbera d'Ebre, the old town bombarded and preserved as a monument, and to the Civil War museum in Gandesa where a wide range of resources help explore the conflicts between the ideologies. Optional visits can be made to a series of Ebro battle trenches and the site of the strategic river crossing by Republican troops at Miravet.

"This was our first Politics trip and we had a really good time. All the arrangements ran like clockwork and the students were enthralled by John's breadth of knowledge and enthusiasm for the subject. They learnt a great deal that is directly relevant to the A2 syllabus"
Philippe Harari, Long Road Sixth Form College July 2007