Rural depopulation in Spain 2016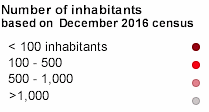 8 February 2017
More than half of Spain's towns and villages, 4,995 from a total of 8,125, carry a very high to moderate risk of being completely depopulated in the medium and long term. The vast majority of these suffer the continuous ageing of their population with few if any births as people leave to find work and more services elsewhere.
This data comes from a report 'Población y despoblación en España 2016'. The study was carried out based on the analysis of the last population census published a few weeks ago by the Instituto Nacional de Estadística, which details the population statistics of each of the Spanish municipalities. Santiago de Frontanyà (Berguedà) is the least populated municipality of Catalonia with only 27 inhabitants.
The report warns that the demographic crisis continues to worsen and that its effects compromise the future of more and more Spanish municipalities. There are already 2,652 villages that have less than 500 inhabitants. Of these, 1,286 (almost two out of ten Spanish municipalities) have less than one hundred registered residents. This is 48 more than in 2015, and 358 more than in 2000.
Spain has lost 67,374 inhabitants in the last two years, a decline that has been concentrated mainly in rural areas since the sum of the population of the provincial capitals of Spain has gained about 14,000 inhabitants during the last year.
Sánchez Quero, the president of the FEMP depopulation commission (Federación Española de Municipios y Provincias) has called for 'the implementation of urgent State policies' in the face of the severe demographic decline that is taking place and the threat it poses to rural areas. He has described it as 'a major socio-political problem' for Spain.
Sánchez Quero has emphasized that the demographic crisis is hitting small and medium municipalities particularly hard, which means that more and more villages are 'behind the red line of danger of extinction'. For this reason, he considers it essential both for social and economic reasons that concrete measures are immediately taken to support and increase their populations. He has called for a national plan against depopulation, coordinated between the State, autonomous communities and FEMP, which should be developed through the Provincial Councils and Town Halls.
Consequently, the Spanish Prime Minister Mariano Rajoy has appointed a Government Commissioner to develop a National Strategy to address the demographic challenge.
Source: abc.es: La despoblación vacía media España