Priorat: Wines
In barely 15 years, the wines from Priorat have gone from obscurity to the most expensive in Spain, with an international reputation for high quality. Yields in Priorat are low, and the grapes are small. However, this leads to a greater concentration of taste. The steep slopes ensure the vineyards have less direct exposure to sunlight than other wine regions, so the fruit has a different structure, with better acidity and lower pH, and less prone to oxidation.
The wines produced are dark purple in colour, with a high alcoholic level (15-16%), and a typical mineral taste. The high acidity, pH 3.4 or less, helps enliven and freshen the wine.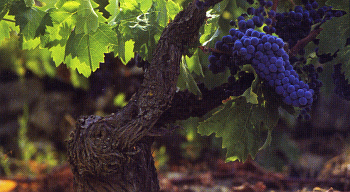 Priorat grapes
The classic grapes of the area are the garnacha and cariñena. Forty percent of all vineyards in Priorat are growing the garnacha since it thrives in a hot, dry environment, is fruity and rich in sugar. Half of the vineyards cultivate the cariñena, which contains a lot of tannins. French cabernet sauvignon and syrah are also grown, producing wines of great complexity.
Priorat's unique vineyards produce a wine of unusual quality, but the recent success would not have been achieved without human ingenuity and a resolve to outshine the competition. Priorat is a hotbed of wine innovation, with many variations in practices such as retention of stems, maceration times and use of new oak barrels for two years before bottling. Wine growers are provided with technical help by wine cooperatives. Visits are made to major international wine fairs to see and taste the competition. Vineyards are harvested separately to demonstrate to the individual grower the objectivity of the payment system, which varies by a factor of 12 depending on the quality of the grapes.
To try and ensure that quality is maintained, innovations continue, and wines stay ahead of the competition, Europe's first Science and Technology Park specialising in wine research and development is being constructed in Falset, the heart of the Priorat wine growing area.
Priorat Science Park of Wine Technology
A Science Park of Wine Technology opened in 2009 in Falset, the heart of the Priorat wine growing area. It is intended as an international centre of wine research and development, ensuring the region continues to stay ahead of the wine competition. It includes a series of pilot plants and facilities to assist new business start-ups.
The Wine Technology Park is one of four new tourism-related Research and Development institutions in the region.

New Tourism-related Science and Technology Parks in the Tarragona Region