Pere Ventura Winery tour
Visit time: 3 hours
For many students, a visit to the Pere Ventura Winery is one of the highlights of their visit to Catalonia.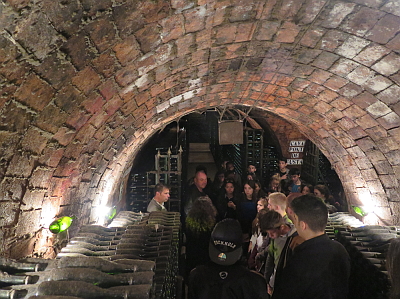 Pere Ventura sells to 43 countries worldwide and can produce 35,000 bottles per day. Their main markets are Japan, Hong Kong, Canada, Nigeria, and Mexico. Current production is over 1 million bottles per year. There is a very clear explanation of the wine growing process and all departments are visited. The tour follows the bottles on their journey from the cellar resting period, to the removal of the sediment by freezing the neck, corking and labelling. Pere Ventura uses traditional manufacturing methods combined wiith state-of-the art automation, including robots. The visit ends with snacks and grape juice sampling.
Pere Ventura staff are very welcoming and are open to all questions.