The Impact of 22@: Can Ricart
Barcelona's 22@ plan involves the transition of the city from an industrial manufacturing model to one better suited to a knowledge-based economy. One casualty of this change has been the old textile factory of Can Ricart in Poblenou which will soon be demolished to make way for new offices.
Can Ricart has thirty small companies employing 250 people, all of whom will lose their jobs. The companies claim that their metal and carpentry workshop activities help to preserve the industrial heritage of the Poblenou district - an area known as the 'Catalan Manchester'. There is little alternative accommodation in the area.

more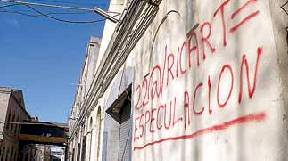 Can Ricart: property speculation graffiti