Carmel Tunnel Collapse
1,000 made homeless and 15,000 affected by Barcelona tunnel collapse
The collapse of a tunnel being excavated to extend Line 5 of the Barcelona Metro on January 27 2005 was just the beginning of a nightmare for the residents of the working class neighborhood of El Carmel in Barcelona. Several dozen locals were evacuated from their homes due to the damage to their buildings caused by the collapse. Four days later, the government of Catalonia assured those affected that they could return to their homes, only to later stop the return due to a new collapse that severely damaged several buildings, which have had to be demolished. Catalan prime minister Pasqual Maragall visited the district and compared the events with the ecological disaster caused by the oil tanker Prestige three years ago in Galicia. After Maragall's visit, one thousand now-homeless residents were rehoused.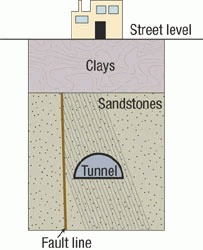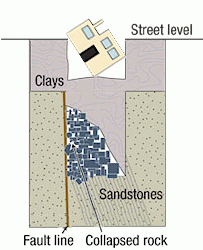 Carmel: the effects of tunneling close to the unknown fault line
Critics assert that the Metro tunnel was excavated without having performed a geological study of the terrain and that a method rejected as unsafe by the Madrid autonomous region was used. A parliamentary investigation has concluded that the the blame should be shared between the surveyors, builders and the Catalonia regional government's construction authority GISA - effectively the 'owner' of the project and therefore carrying the ultimate responsibility. As a response, the residents of El Carmel have created a webpage in order to collect the complaints of the more than 15,000 affected.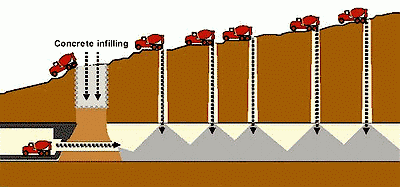 Carmel: the tunnel has now been filled with concrete
The Carmel evacuation zone : 84 buildings affected
Sources:
La Vanguardia
Spain Herald
SpainMedia.com