Rebranding Places Fieldwork
The field studies below have been developed to support the Edexcel GCE 'Rebranding Places' unit for first examination in 2009.
Rebranding Cities: urban rebranding strategies and their impact
Location: Barcelona: El Raval or 22@ New Technologies district
Travel time: 45 minutes
Study time: full day
The transformations taking place in Barcelona's urban landscape in the last 20 years have given place to what is now internationally known as the Barcelona model. In the process, old industrial districts have disappeared to make room for a new, glossy city. As Barcelona has reinvented itself, there has been a transition from an industrial to a postindustrial city and tourism has become one of its most defining industries.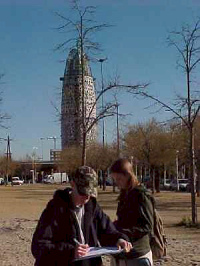 22@ New Technologies district
The city used two high-profile international events as a catalyst for its radical urban renewal. The 1992 Olympic Games led to the beginnings of change in Barcelona's once infamous El Raval inner-city district and the transformation of a blighted coastline of abandoned factories and toxic beaches. The 2004 Universal Forum of Cultures enabled the completion of the seafront remodelling, and in the process created a strong legacy momentum.
Growing levels of private investment have gone hand in hand with increasing levels of infrastructure development and the city is currently undertaking some of the biggest development projects in Europe. For example, the old inner-city industrial area of Poblenou, is being redeveloped to create a new technologies zone, 22@, designated for media, marketing and other service-related activities.
Field studies focus on the impact and evaluation of a range of urban rebranding strategies in two contrasting areas: El Raval and the 22@ New Technologies, Media Park and Forum districts.
Each area study takes a full day.
The 'new look' Raval: an urban rebranding success?

22@ New Technologies district

Media Park

Universal Forum

22@ City promotion

Urban rebranding


Rebranding for a sustainable future
Location: Barcelona: 22@ New Technologies Zone, Media Park, Olympic Village, Diagonal Mar, Universal Forum and La Mina
Travel time: 45 minutes
Study time: full day
Barcelona's 1992 Olympics and 2004 Forum events were the catalysts for the reclamation of its waterfront west of the River Besňs, an area formerly known as the 'Catalan Manchester' for its predominance of old manufacturing industry. Redevelopment has transformed the district, adding the Olympic Village and Port, new beaches, a riverside park, Diagonal Mar, the Forum, the 22@ New Technologies zone and Media Park. Other major developments in the area are in progress, including a high speed rail link and the sinking of Gran Via, a major avenue, below ground.

This district forms an excellent case study of city rebranding for a sustainable future, with a range of examples of sustainable city planning strategies and new infrastructure that meet many social, environmental and economic criteria, as well as the use of a range of legacy facilities.
The transformation has not been without conflict. The origins of the Barcelona model go back to a period where local governments made decisions on urban planning in close consultation with its people, with the aim of creating a fairer city for its less privileged citizens and in the public interest. Solutions to conflict often resulted in the creation of more social and public spaces. Solutions today are less easy when the choice is between preserving engineering workshops or replacing them with clean buildings housing new technologies.
Rebranding for a sustainable future: 22@ High-Tech Zone, Media Park, Olympic Village, Diagonal Mar, Universal Forum and La Mina
Impact of urban renewal and brownfield regeneration schemes west of the River Besňs.

Renewal of an old industrial quarter into a technological district (22@).

The Universal Forum of Cultures 2004 legacy facilities facilities include hotels and commercial centre facilities, new beaches, residential areas and an urban park.

These developments lie adjacent to La Mina, the most socially deprived district in the city.

Case study of the impact of these developments, including land use conflicts.


Eixample, Barcelona
Travel time: 45 minutes
Study time: full day


Application of urban models and impact of sustainable city planning. The Eixample is a utopian garden city development dating from 1859 which grew between outlying industrial towns across what was then Barcelona's military exclusion belt.

The City Council is gradually restoring public gardens to the Eixample blocks as part of its ProEixample sustainable city planning.

Application of the Hoyt and Burgess models to the Eixample district of Barcelona. Its growth between outlying industrial districts is reflected in its land use patterns.
Barcelona's Eixample

The social, environment and economic impact of the ProEixample garden project developments. more
The Olympic Village: a planning disaster?
Travel time: 45 minutes
Study time: full day

Aerial image of the Olympic Village

Olympic Village: empty streets

The Mayor of Barcelona, Joan Clos, has blamed low density planning for the lack of social and economic life in Barcelona's Olympic Village. There are few people on the streets and public space, shops or bar terraces are little used by the neighbours.

In the Mayor's defence of the compact and dense city – building upwards rather than outwards – the Eixample of Ildefons Cerdŕ is seen as a success. The Eixample has 150 dwellings per hectare, creating a district "where yes, there is life". For Clos, the Olympic Village with 60 dwellings per hectare is an example of what should not be done in city planning.

The study compares land use, environmental quality, economic data and perceptions for sampled Eixample and Olympic Village blocks. The recording of pedestrian counts and noise decibel levels assists hypothesis testing and analysis.
Managing Rural Rebranding: Les Garrigues
Travel time: 1½ hours
Study time: full day

Olive trees
L'Albi, Les Garrigues

Vilosell, Les Garrigues

Les Garrigues is a predominantly rural county situated 100 kilometres from Barcelona.

It is a region traditionally dedicated to almonds and olives, but the farmers of Les Garrigues are no longer cultivating some 36 per cent of the available farmland according to data from the Department of Agriculture. One of the causes of this situation are the low profits gained from cultivation in the unirrigated zones, a result according to the farmers, of a difficult climate and the lack of irrigation infrastructure.

This leads to rural depopulation, very evident in some villages with the loss of services, the number of abandoned fields and growth of second homes.

The EU's LEADER Initiative for integrated rural development has helped facilitate some 'grass-roots', local development initiatives. Rural tourism is promoted, focusing on the cultivation and farming of olive trees. Extra virgin olive oil with the Les Garrigues designation of origin is produced using the high quality Arbequina olive. Wind farms are a very recent and growing feature of the Les Garrigues countryside.

The field study focuses on the impact and evaluation of rural rebranding strategies in two contrasting villages, one remote, the other more accessible. The day will include a visit to the Les Garrigues Interpretative Centre at Borges Blanques.

Rural rebranding


Managing Rural Rebranding: Priorat
Travel time: 1½ hours
Study time: full day



Gratallops - the centre of the wine revival in Priorat
Village street

Mountain terraces
Environmental impact
Slate soil
Diversification

Priorat is a predominantly rural, sparsely populated region situated 120 kilometres southwest of Barcelona. The relief is characterised by narrow valleys and steep mountains.

Priorat has a famous winemaking history that began in the 12th century with the Carthusian monks of Scala Dei. The vineyards are planted on the steep slopes, which rise from 100-700 metres.

In 1900 an outbreak of phylloxera devastated the region's vineyards, and mass tourism that pulled people away from Priorat to the coast in the 1960s accelerated the rural decline. Twenty years ago, the Priorat region was on the verge of extinction, with grape prices so low that this was one of Spain's most impoverished regions.

It took a few visionaries to realise Priorat's potential. Most agree René Barbier initiated the Priorat revival. In the 1980s he established a co-operative that put its first wine on the market in 1991. From that first release, the New York Times published an article extolling the virtues of the Priorat wines and prices soared, with wines commanding more than $300 a bottle. In barely 15 years, the wines from Priorat have gone from obscurity to the most expensive in Spain.

Wine tourism has led to the establishment of high quality restaurants operated by the wineries. This has helped to create a 'Priorat' quality brand that is now attached to other products in the region. Wine and gastronomic tourism have thus combined to encourage local development and the agricultural recovery of a region traditionally considered as marginal.

The field study focuses on the social, environmental and economic impact and evaluation of rural rebranding strategies in four contrasting Priorat villages, including Gratallops, the home of René Barbier. Data collection includes residential quality, environmental quality, perceptions, services and amenities and environmental impact.
Rebranding declining Spanish Mediterranean holiday resorts

Travel time: 15 minutes
Study time: full day


The Spanish Mediterranean 'Costas' have become a byword for much that is bad about mass tourism. A model of uncontrolled growth has led to the destruction of the landscape, pollution, poor planning, loutish visitor behaviour and loss of national identity. While the costas struggle to hold on to their package tourists, their booming, cheaper and less-crowded rivals in countries such as Turkey, Tunisia, Egypt and Croatia enjoy annual growth rates of up to 50%.
The fall in tourism revenue has been felt hard in the coastal resorts of Sitges and Calafell, two approximately equal-sized settlements lying to the south west of Barcelona (see Figure 1). Both rely on tourism as a major source of income and employment and both have rebranded in an attempt to overcome the decline. The rebranding strategies for the two resorts have followed very different paths and the study aims to compare the relative success of tourism, in its various forms, by employing the Butler Model.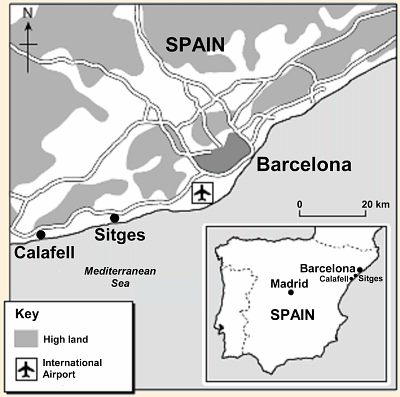 Figure 1. The location of Sitges and Calafell
Tourism rebranding in Sitges and Calafell

All fieldwork studies are supported with a wide range of secondary data.