Heron City Barcelona
by John Barrass, editor of Barcelona Business
Sant Andreu is far from being Barcelona's most prosperous district, but if Heron International has got its formula right, the city's newest commercial complex could also turn out to be its most successful. To explain why, Heron executives are at pains to point out what Heron City is not: it's not a high-risk investment, US-style mega-mall; it's not a shopping centre (though it does have a supermarket); it's not even called a 'leisure centre', as the word ocio is too passive for the developers' liking — they prefer entretenimiento, with "Always entertaining" as their English motto.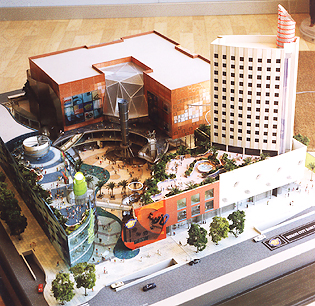 And Heron City, opened on 20 September 2001, is a very Anglo-Hispanic - it's the brainchild of the buccaneering British entrepreneur Gerald Ronson, whose rehabilitation on the international real estate market over the last five years has been spectacular. Ronson's daughter Lisa, who has been living and breathing the project over the last few months, tells me that Heron City aims to provide the amenities a good town square would offer, catering to the community's need for gathering, playing, dancing, swimming, eating, drinking and yes, shopping.
Movies for the masses
Centrepiece of the complex is the 16-screen Cinesa cinema, which thoughtfully provides 'business class' 60cm-wide seats with double-width armrests, but unfortunately intends to show foreign films in dubbed (not subtitled) releases. Cinesa's spokesman justifies the decision as pandering to "mass market demand", which rather implies that folk are either illiterate or content to miss out on screenwriters' and actors' finest moments. However, along with the Generalitat's Filmoteca on Avinguda Sarrià, Cinesa provides the comfiest couches for Barcelona's movie lovers.
Coffee and tea bars, an alehouse, ice-cream parlours and fast-food franchises have all staked their pitches in Heron City, with the more leisurely diner catered for by several distinctly Italian-style restaurants. Talk like Robert de Niro at Frankie & Benny's (actually a UK-based chain, despite its Little Italy appeal) or sample freshly-prepared dishes at San Marzano (the upmarket division of PizzaExpress), which, unusually for Barcelona, serves Italian wine. Their Montepulciano red is excellent value, and the head waitress speaks fluent English.
Visitors to Barcelona with young children could do worse than book into the neighbouring Hotel Ibis, as Heron City's Big Fun centre provides kids' games and rides, with bowling alleys and a pool hall for the older punters. Monday and Thursday afternoons see dance classes, painting workshops, magicians and circus-skills classes; There's a ten-metre swimming pool on-site, and a health and fitness centre planned for December.
Community building
The district's elderly are invited to Monday and Thursday 'elevenses' for coffee, dominoes, chess and chat. Monday is comedy night, Thursday is jazz night and gospel music rings forth on Sunday afternoons.
Heron City has encouraged local employment and invited nearby traders, but the community-conscious initiatives can't disguise the fact that the OpenCor (El Corte Inglés) supermarket, cashing in until the small hours, will inevitably take trade from local shops, already dwarfed by the nearby Hypercor department store, also owned by El Corte Inglés. Reporters from the local Nou Barris TV team tell me resentfully that the Heron City land was previously set aside for low-cost starter flats.
It's easy to grouse at an initiative like Heron City, but in truth low-cost housing plans have come to nought all over town, and the dominant presence of El Corte Ingles does at least provide consumers with a guarantee of reasonable quality and the honouring of refunds for faulty goods, regardless of the company's appalling employment practices and its anti-competitive stance nationwide.
On balance I was impressed by the professionalism of the Heron City operation - safety considerations and good building standards were evident, and the scale of the scheme seems better judged than the giant La Maquinista commercial centre, opened last year and already struggling. My biggest gripe is with Heron City's astral logo: a more appropriate symbol be heart-shaped, the pedestrian heart of traffic-blighted Sant Andreu which municipal funds can't provide, but private capital can.
Heron City Barcelona
Passeig Andreu Nin
Developed in partnership with Leyetana
Parking for 1,600
Metros Fabra i Puig (line 1),
Llucmajor and Roquetes (line 4).
Buses 11, 12, 34, 36, 50, 51, 62, 74, 76, 81, 96, 97, 104
Project
HERON CITY BARCELONA Entertainment Centre
Use
Use Entertainment centre in Barcelona. It has a 16-screen cinema and a wide range of leisure facilities including restaurants, bars, fast-food restaurants, discothèques, fitness, shops related to leisure, hobbies and so on.
Address
Site situated next the Avenida Meridiana surrounded by la Ronda del Mig and the following streets Andreu Nin and Pintor Alsamora
Basic Information

Fully integrated urban entertainment centre
34.000 m2 development
16 screen multiplex cinema by Cinesa, a Paramount/Universal company.
150 bedroom 3 star Accor hotel
Health & fitness
Family entertainment, restaurants and bars
1.600 underground car parking spaces
Due to open September 2001

Planning forecast
Construction commenced: February 1999
Opened September 2001
Model