Mediterranean Tourism Seasonality
An important feature of tourism in the Mediterranean basin is its strong seasonality. Most tourists travel during August and no less than 40% of all arrivals are registered in the peak months of July, August and September. Such a strong seasonality dictated by the weather, gives rise to two problems:
1. The need to optimise the use of the tourism infrastructure such as roads to accommodate high flows during the summer, and to redistribute tourist flows to reduce the risk of high unemployment during the rest of the year.
2. From an environmental perspective, during the hot and dry months, both domestic and international tourism are heavily dependent on water resources, and this pressure may cause depletion of the resource base.
In dryer regions like the Mediterranean, the issue of water scarcity is of particular concern. Because of the hot climate and the tendency of tourists to consume more water when on holiday than they do at home. It has been estimated that a Spanish city dweller uses some 250 litres a day, while the average tourist uses 440 litres. With an allowance for watering gardens and golf courses and filling swimming pools, this can rise to some 880 litres per day for visitors in luxury accommodation.
The diagram below shows the effects of seasonality on the resource base of one Catalan Mediterranean resort. Lloret de Mar is a town in north-east Spain covering 47 km² whose permanent population of 20,000 inhabitants increases to a peak of 180,000 in the summer, receiving almost 4 million tourists each year.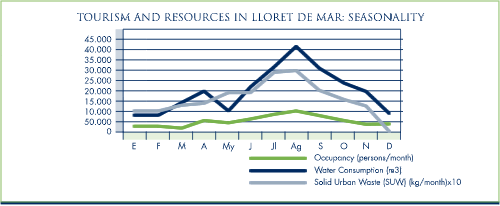 Note: Although the source consulted (Costa Brava-Girona Board of Tourism-INSETUR) indicates a maximum occupancy of approximately 100,000 persons, other sources have reported significantly higher occupancy rates for the month of August, with peaks reaching above 180,000.
Sources:
1. Costa Brava-Girona Board of Tourism, Lloret de Mar Town Council, Serveis Integrals Lloret, S.L., 1998.
2. http://www.lloret.org/uk/agendaxxi/presentacio.htm