Transnational Case Study
Case Study: Fiat Car Factory, a TNC in Brazil
Factors that attracted the company to Betim, close to Belo Horizonte in the state of Minas Gerais, SE Brazil:
Guaranteed market for cars within Brazil, and Fiat could also supply the demands of other South American countries (see table below).
Loans, grants and cheap land offered by the government, amounting to 50% of the initial investment.
Taxes are low.
A low level of car ownership, but a rapidly growing market (see table below).
Brazil had a stable government: it was a low-risk investment.
Prepared site with infrastructure such as roads, sewerage, electricity, etc.
Well developed infrastructure in the region: excellent motorway, rail and coastal shipping connections.
Large pool of cheap labour.
A government guarantee of few labour problems, strikes etc.
Fiat can take their profits out of the country.
Low health and safety standards save costs.
Hard working and highly productive workforce: regularly the most productive car plant in the world.
Nearby steel works: saves transport costs.
High import tariff barriers provided a market protected from foreign competition. In 1996 the tariff for companies with plants in Brazil was 35% and for those without plants in the country 70%.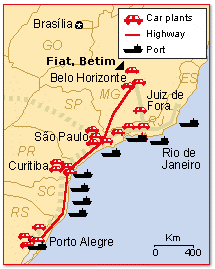 Fiat car plant location