Solar Cookers: appropriate technology as a technological fix
Solar cookers, using unlimited, clean and free solar energy are a good example of a technological fix using appropriate technology. The term 'technological fix' differs from a distinctly different family of human development problems: those requiring an 'attitudinal fix.'
Benefits of using Solar Cookers
The solar cooker is suitable for smoke free cooking, baking, grilling, frying and deep frying. Due to the high cooking performance of the parabolic solar cooker, meat, grill, pasta dishes, baked food stuffs ( e.g. bread, pies, pizzas), stews or boiled meals are prepared nearly as quickly as cooking them on an electrical stove or in an oven.
1. Global effects of the solar cooker
Helps stop deforestation and associated soil erosion and prevents further depletion of the ground's nutrients. Reduces carbon emissions and global warming.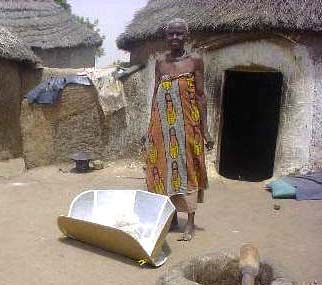 The solar cooker shown above is made from card board covered in aluminium foil and has some limitations. It can only do boiled cooking, with no frying. Cooking time is much slower than using a parabolic cooker and it is less durable. It can only last for 2 to 3 years depending on how much it is used. Source: Wikipedia
2. Health Issues
Cooking with solar cooker does not generate smoke, as does traditional cooking over open fires. When preparing food indoors, the fumes can become overwhelming. Women and children inhale these fumes which lead to respiratory diseases. Smoke also irritates eyes.
Families can use the solar cooker to boil contaminated water and improve hygiene. When using a solar cooker 50 litres of drinking water can be pasteurised every day. Burn injuries caused by open flames can be avoided and medical instruments can be sterilised.
3. Reducing Labour and Saving Time
Women and children don't have to struggle for hours to gather firewood.
Children can have more time to study and improve their education rather than gathering wood.
4. Independence and Money Savings
Money spent on buying firewood will be saved and used for other purposes.
5. Income Generation
Families can use the solar cooker in micro enterprises e.g. preparation of juices and jams, roasting peanuts and frying dough nuts, selling baking products, food preservation e.g. boiling food and using at a restaurant.